(Click en la imagen para escuchar)
Mathis James Reed
NACIDO: September 6, 1925, Dunleith, MS
MURIÓ: 29 Agosto de 1976, Oakland, CA
Simplemente no hay sonido en el blues, accesible, reconocible al instante y tan fácil de tocar y cantar como la música de Jimmy Reed . Sus canciones más conocidas - "Baby, What You Want Me to Do," "Bright Lights, Big City," "Honest I Do," "You Don't Have to Go," "Going to New York," "Ain't That Lovin' You Baby" and "Big Boss Man- se han convertido en una parte tan integral repertorio del blues estándar. Debido a que su estilo era simple y fácilmente imitado, sus canciones eran accesibles a casi todos, desde Elvis Presley , Charlie Rich , Lou Rawls , Hank Williams, Jr ., hasta los Rolling Stones. Su ritmo estilo boogie, simples rotaciones de dos cuerdas con solos de armónica eran probablemente la primera exposición que tenían los blancos con el blues.
Las grabaciones de Jimmy Reed fueron éxitos en muchas ocasiones, una hazaña poco común para un bluesman. Para los aspirantes a músicos que querían tocar blues , ya sea vocal o instrumental (no importa qué color de piel que naciste), vale la frase "Sí, cualquiera con una gama de más de seis notas podía cantar de Jimmy sus canciones y reproducirlas el primer día".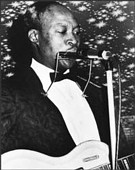 Reed nació el 6 de septiembre de 1925, en una plantación de Dunleith, MS. Se quedó en la zona hasta que tenía 15 años, aprendiendo los rudimentos básicos de la armónica y la guitarra acústica de su compañero Eddie Taylor. Reed se trasladó a Chicago en 1943, pero fue reclutado rápidamente en la Marina, donde se desempeñó durante dos años. De vuelta a Mississippi contrae matrimonio con su amada esposa Mary (conocida por los fans de blues como "Mama Reed"). Luego se trasladó a Gary, IN, y encontró trabajo en una planta empacadora de carne. Los principios de los 50 lo encontraron trabajando como acompañante con John Brim Gary King y tocando en la calle con Willie Joe Duncan. Después de fallar en una audición con Chess Records (su éxito posterior sería una espina constante en el la firma), fue a probar suerte en la recién formada Vee-Jay Records, donde se hicieron sus primeras grabaciones. Fue durante este tiempo en que se reunió con Eddie Taylor , una asociación musical que duraría hasta que Reed murió. El éxito tardó en llegar, pero cuando su tercer single, "You Don't Have to Go
"
respaldado con "Boogie in the Dark", se coloco en el quinto puesto de los Billboard Grafic 's, el panorama cambió.
Pero si vender más discos que Muddy Waters , Howlin 'Wolf , Elmore James o Little Walter trajo los frutos de la fama, no había nadie más mal equipado para manejar los negocios que Jimmy Reed. Su adicción al alcoholismo comenzó a desmoronarlo. A esto se suman otras historias de Jimmy en los que terminó arrestado. No es de extrañar entonces que, cuando fue atacado por la epilepsia en 1957, se fue durante un período prolongado de tiempo, pues había experimentado ataques de delirium tremens. Eddie Taylor podía relatar cómo se sentaba delante de Reed en el estudio, dándole instrucciones mientras estaban grabando. En algunos momentos hasta olvidaba la letra de sus propias creaciones - y Mama Reed se sentaba en un banco de piano a susurrarle al oído el compás y las composiciones.
Sus intentos de recuperación fueron apoyados por su manager, Al Smith , quien rápidamente le organizó un contrato con el ABC-Bluesway Label, pero los álbumes producidos en ese tiempo carecen del encanto de los iniciales. Finalmente recibió la atención médica adecuada para su epilepsia y dejó de beber, pero ya era demasiado tarde y murió tratando de hacer una reaparición en los escenarios del Blues Festival, el 29 de agosto 1976.